Why is Florida suspending driver's licenses for unpaid debt?
Two million Floridians or— 1 in 8 drivers — currently have a suspended driver's license. Fewer than 4% of these suspensions are related to serious public safety issues like drunk driving. Driver's license suspension should be reserved to keep dangerous drivers off the road – not punish people who are already struggling to make ends meet.
Florida's license suspension laws hurt businesses, government and Floridians.
License suspensions make everyday life impossible.
If you can't drive in Florida, you can't work, care for your kids, buy groceries or even get to the doctor. Scroll through the carousel below to read the stories of everyday Floridians who are struggling to get their lives, and their license, back under this backwards policy.
Which counties have the most suspensions?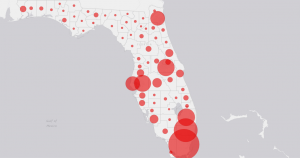 View our interactive Story Maps to see how driver's license suspensions impact Floridians in each county.
Want to see the impact of driver's license suspension laws throughout the nation? Visit our national campaign site, Free to Drive, to see how debt-based driver's license suspensions are harming millions across the country.
We must end this counterproductive practice.
The Fines and Fees Justice Center's (FFJC) Florida state campaign is the first sustained effort to reform harmful fines and fees practices statewide. Our goal is to abolish fees in the justice system and to ensure that fines are equitably imposed and enforced. To learn more about our campaign to end driver's license suspensions for unpaid fines and fees and the work we are doing in Florida, contact Florida State Director Ashley Thomas at athomas@ffjc.us.
Here's how you can join the fight to end driver's license suspensions for unpaid fines and fees:
Advocacy Resources
Intro and Explainer to SB 386/HB 557 — Payments to the Clerks of Courts PDF
Social Media Toolkit: Driving on Empty Campaign to End Debt-Based Suspensions
Driving for Success Campaign Supporters
ACLU – Florida
Advancement Project
Americans for Prosperity – Florida
Associated Industries of Florida (AIF)
Catalyst Miami
Chainless Change
Community Network Solution
Community Spring
Families Against Mandatory Minimums (FAMM)
Florida Cares
Florida Justice Institute
Florida Policy Institute
Florida Retail Federation
Florida Rights Restoration Coalition (FRRC)
Florida Rising
Florida Truckers Association
Foundation for Government Accountability
FRESHforce – A Program of Feeding Tampa Bay
Gainesville 4 All
Greater Orlando NOW
Grover Norquist, Americans for Tax Reform
Hillsborough County Commissioners (view resolution in support)
HOPE Public Interest Resource Center at Miami Law
Human Rights Defense Center
Lakewood Organic
LatinoJustice PRLDEF
Law Enforcement Action Partnership
Law Offices of the Public Defender, 11th Judicial Circuit of Florida
Law Offices of the Public Defender, 13th Judicial Circuit of Florida
League of Women Voters of Alachua County, Social & Criminal Justice Committee
League of Women Voters of Florida
Lyft
Miami-Dade County Commissioners
National Lawyers Guild
Operation New Hope
Players Coalition
Pinellas County Ex-Offender Re-Entry Coalition
R Street Institute
Responsible Business Initiative
Right on Crime – Florida
SEIU Florida
Southern Legal Counsel
Southern Poverty Law Center Action Fund
Tallahassee Veterans Legal Collaborative
Tampa Bay Rays
Tampa Bay Rowdies
Tampa City Council (view resolution in support)
The End Recidivism Project Extreme
The Dream Foundation, Inc.
The Institute for Justice
The Social Justice Advocacy Program at Stetson University College of Law
UBER
UNITE Pinellas
VoteRiders Tampa Bay