Fines and fees hurt every New Yorker.
They make our communities less safe, they perpetuate and exacerbate poverty, and they extract millions of dollars from the most vulnerable among us, particularly communities of color.
Here's the Problem: 
Hundreds of thousands of low-income New Yorkers have their driver's license suspended simply because they cannot afford to pay a fine. Driver's license suspension for nonpayment of fines and fees is cruel and counterproductive. Many New Yorkers need to drive to get to work, take their children to school, or take a family member to the doctor. As a result, many people are forced to drive even when their license is suspended. Instead of focusing our limited resources on reckless drivers who threaten public safety, we have criminalized poverty. New York needs to stop suspending driver's licenses for unpaid fines and fees.
New York imposes a mandatory surcharge on everything from parking tickets to felonies. This surcharge is a regressive tax, plain and simple—revenue collected from the surcharge goes directly to the state general fund, and the surcharge cannot be waived by a judge — even for people who cannot afford to pay. New York needs to abolish the mandatory surcharge.
Fines are imposed as a sanction for all traffic and moving violations, and can be imposed for misdemeanors and felonies. These fines are assessed without any consideration of a person's ability to pay and without gauging the deterrent effect of the penalty. As a result, people are often saddled with fines they can't afford to pay – often further entrenching poverty and causing unending cycles of punishment.
The Fines and Fees Justice Center's New York state campaign is the first sustained effort to reform harmful fines and fees practices statewide.
Our goal is to abolish fees in the justice system and to ensure that fines are equitably imposed and enforced.
FFJC is building a broad-based reform coalition including community organizations, advocacy groups, religious leaders, judges, defenders, prosecutors and law enforcement.
We've already achieved our first victory in New York—New York City became the first U.S. city to agree to make all phone calls free for incarcerated people. After a bill was introduced to the NYC Council, the Zero Jail Profits coalition circulated a letter in support of the legislation that was signed by over 30 organizations, and FFJC Co-Director Joanna Weiss co-authored an op-ed in support of the legislation along with JustLeadershipUSA's Brandon Holmes. When the legislation was up for a vote at City Council in July, FFJC joined our coalition partners outside of City Hall to rally support for the bill and speak to press about why ending jail phone call fees is so important.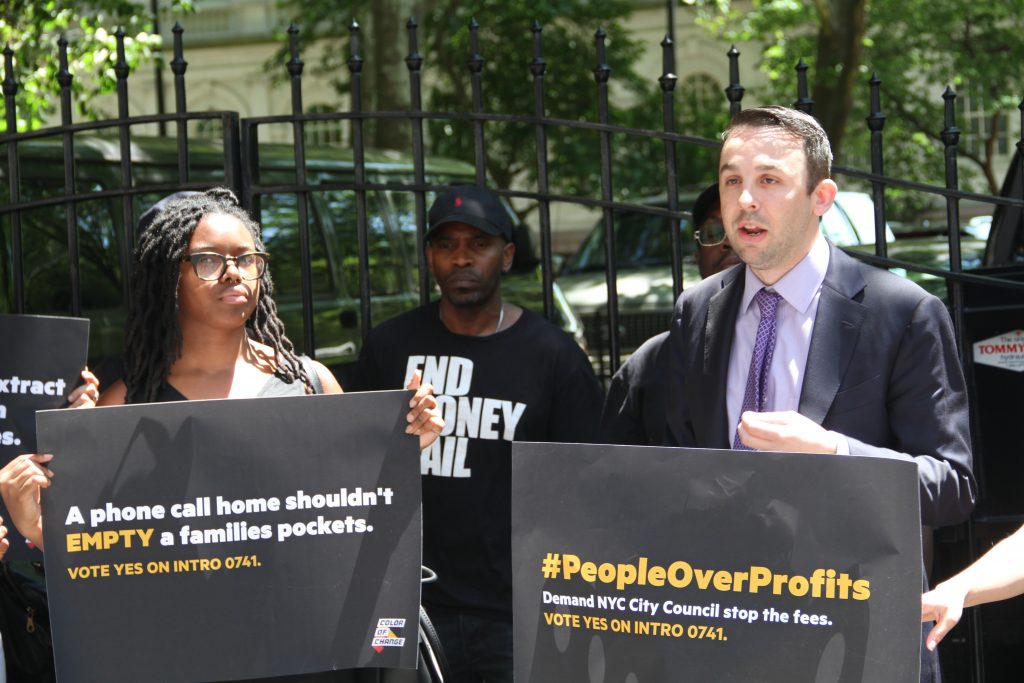 But we're not resting on our laurels. 
In September 2018, NYC Councilmember Rory Lancman held a Committee on the Justice System hearing about the Cost of Justice. Several members of the Zero Jail Profits coalition were able to testify at the hearing, including FFJC Co-Director Joanna Weiss and advocates from Bronx Defenders, Brooklyn Defender Services, and the Corrections Accountability Project. Our testimony highlighted an array of fees that we urged NYC Council to eliminate, proposed a new Office for Economic Justice that would evaluate the assessment and imposition of fines and fees in NYC, and advocated for a pilot implementation of means-adjusted fines. You can find a full video recording of the hearing below, as well as written testimony from FFJC, Bronx Defenders, and Brooklyn Defender Services. Councilmember Lancman was also able to produce and share with our coalition previously inaccessible data on the assessment and imposition of fines and fees in New York City, which are available on our Clearinghouse.
In February 2019, FFJC Co-Director Joanna Weiss testified before the New York State Assembly Local Government Committee to advocate against Governor Cuomo's proposed property tax cap. The current tax cap, set to expire in 2020, currently limits local property tax increases to 2% per year or the rate of inflation, whichever is lower. Governor Cuomo has proposed a permanent version of the tax cap, which would continue to drive cities across New York to rely more heavily on a far more regressive form of taxation: fines and fees.
Join Us.
If you want to get involved with our campaign or simply learn more about it, keep reading, and contact FFJC's New York State Director Katie Adamides at kadamides@finesandfeesjusticecenter.org.
We currently have an office located at New York Law School in Manhattan, and we expect to open an office in Albany in early 2019.
You can also sign up for our monthly newsletter and follow us on social media: Facebook, Twitter
Action Areas
State priorities –  problems that need to be addressed by the Legislature and Governor –
End driver's license suspensions for nonpayment of fines and fees
Abolish the mandatory surcharge
Repeal the state law that allows cities to impose probation fees of up to $30/month
End the use of garnishment from the commissary accounts of incarcerated people to collect fines and fees
Local priorities –  problems that need to be addressed by local government –
Cities, towns, and villages need to abolish all locally-imposed fees in the justice system, including:
Supervision fees
Diversion fees
Corrections fees

Phone call and voicemail fees
Money transfer fees
Bail fees – some as high as 7%
New York cities also need to stop using law enforcement as revenue collectors.  Too many cities, towns and villages rely on fines and fees for far too great a percentage of their revenue. Law enforcement needs to be focused on public safety, not raising revenue.