The Fines and Fees Justice Center's New York state campaign is the first sustained effort to reform harmful fines and fees practices statewide. Our goal is to abolish fees in the justice system and to ensure that fines are equitably imposed and enforced.
The fines and fees issue hurting the most New Yorkers is driver's license suspension for Traffic Debt. Between January 2016 and April 2018, New York issued nearly 1.7 million driver's license suspensions for Traffic Debt. Traffic Debt suspensions force an impossible choice: Stop driving and lose access to work, childcare, health care, food, and other basic necessities, or keep driving on a suspended license and risk criminal charges and more unaffordable fines and fees.
New Yorkers face this problem every day because they do not have enough money to pay traffic tickets. Because Black and Latinx people are disproportionately stopped, ticketed, charged and convicted, this cycle of debt and punishment especially burdens communities of color.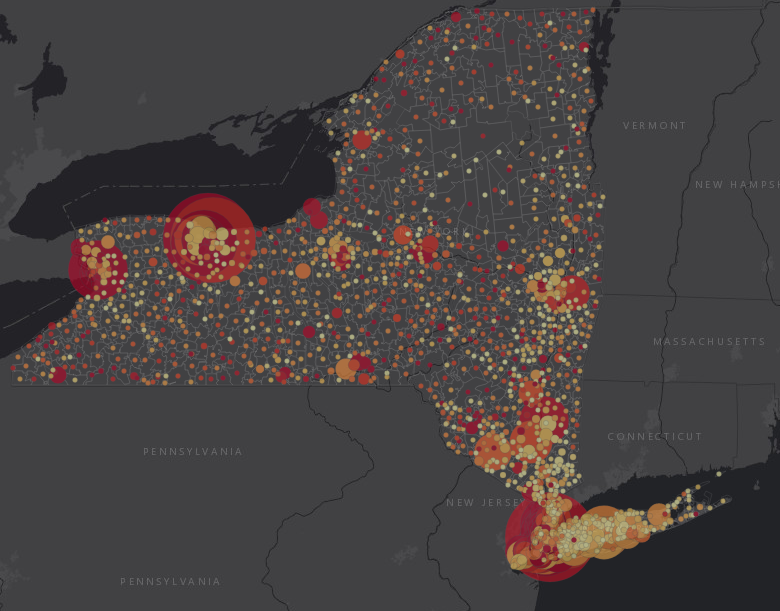 The Driven by Justice Coalition created a Story Map that provides a one year snapshot of Traffic Debt suspensions – click here to see how Traffic Debt suspensions hurt your community.
Driven by Justice is a statewide coalition of grassroots, economic justice, and civil rights organizations, public defenders, and directly affected people working to end the unfair and discriminatory practice of suspending people's driver's licenses for nonpayment of traffic tickets in New York State. We use legislative advocacy, public education, and grassroots organizing to:
End driver's license suspensions for nonpayment of traffic tickets and for not appearing at a traffic hearing;

Reinstate all driver's licenses suspended for failure to pay or appear; and

Make affordable payment plans available.
The Fines and Fees Justice Center, together with the Bronx Defenders and the National Center for Law and Economic Justice, invite you to support the Driven by Justice Coalition:
Contact your New York State legislators and ask them to support Senate Bill S5348/Assembly Bill A7463.
Join our coalition. Your organization can contact Katie Adamides at

kadamides@ffjc.us

. 
Share your story.

If you have been affected by Traffic Debt suspension and want to help change the law in New York State, please

contact us

or email Katie Adamides at

kadamides@ffjc.us

.
End State and Local Fees
New York's state and local budgets shouldn't rely on fines and fees for revenue, and police shouldn't be focused on raising money. New York's Legislature and Governor should end:
mandatory surcharges (state fees for every conviction)

state law that allows cities to impose probation fees of up to $30 per month

garnishment of commissary accounts of incarcerated people to collect fines and fees
Cities, towns, and villages should end:
Supervision fees for probation and terms, e.g. SCRAM alcohol monitoring bracelets

Diversion fees for programs like drug and alcohol treatment

Corrections fees for services like phone calls, voicemail, money transfers, and bail fees–some as high as 7%
Successes
New York City became the first in the country to make all phone calls from jail free. FFJC and the Zero Jail Profits coalition sent a letter in support of the legislation signed by over 30 organizations, and FFJC Co-Director Joanna Weiss co-authored an op-ed in support of the legislation with JustLeadershipUSA's Brandon Holmes. The coalition rallied in support of the bill.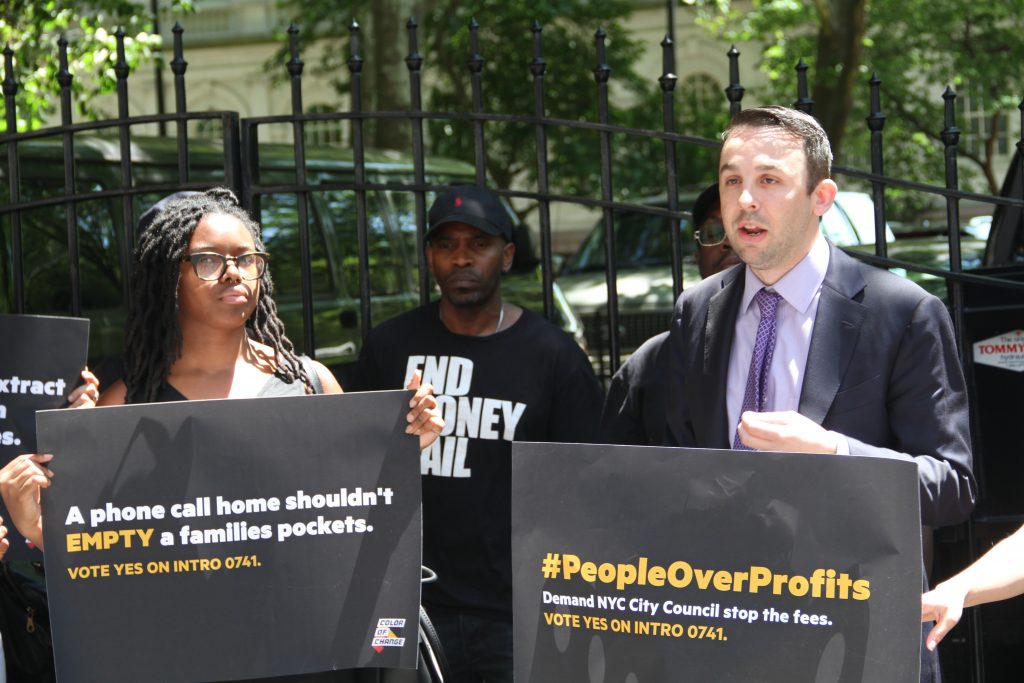 New York City ended two credit card bail payment fees. FFJC submitted testimony supporting legislation ending bail payment fees, noting that these harmful fees stem from opaque contracts between the City and JPay that aim to profiteer off of people trying to pay bail.
We advocated for more NYC reforms. FFJC, alongside advocates from the Zero Profits Coalition, testified at a New York City Council hearing and urged the Council to end fees, created a new Office for Economic Justice, and pilot means-adjusted fines.
We demanded New York State make local government funding more fair. Tax caps drive cities across New York to rely more heavily on a far more regressive form of taxation: fines and fees. We testified and co-authored a New York Law Journal op-ed against Governor Cuomo's property tax cap that limits local property tax increases to 2% per year.
Join Us
To learn more, contact Katie Adamides at kadamides@finesandfeesjusticecenter.org.
We maintain offices at New York Law School in Manhattan and the Albany Social Justice Center.
You can also sign up for our monthly newsletter and follow us on social media: Facebook, Twitter