Fines and fees make New York's communities less safe, exacerbate poverty and extract millions of dollars from low-income communities and communities of color. Those with money can easily pay their way out of punishment. Those who can't afford to pay these exorbitant fines and fees, risk losing their job, being charged more money in fees, arrest and even jail. We need change now.
The Fines and Fees Justice Center's (FFJC) New York state campaign is the state's first sustained effort to reform harmful fines and fees. FFJC New York is building broad-based coalitions from across the political spectrum including impacted people, grassroots organizers, judges, public defenders, legislators, faith-based leaders and advocacy organizations.
Campaigns
No Price on Justice
New York's predatory court fees encourage policing-for-profit, endanger Black and brown lives, and criminalize poverty. No Price on Justice is a coalition of economic and racial justice advocates, grassroots organizations, and impacted people working together to end New York's predatory court fees. Our mission is to end criminal legal system fees and find more equitable ways to fund government.
Ready to join the campaign? Visit No Price on Justice to learn more about joining our coalition.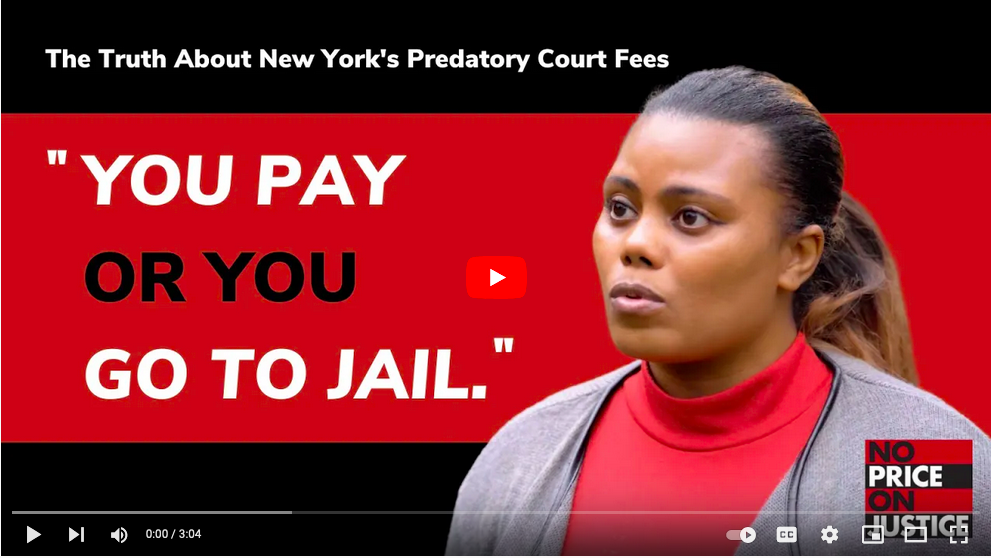 Watch No Price on Justice's latest mini documentary on the shocking costs of predatory court fees.
Recent Events & Updates
Press Statement: Gov. Hochul Calls to Eliminate NY's Parole Supervision Fees —On January 5th, Gov. Hochul called for the elimination of parole supervision fees in her State of the State book. In response, the No Price on Justice coalition released the following statement.
End Predatory Court Fees Act — Senate Hearing
Ahead of a joint Senate Codes and Corrections Committee hearing on the End Predatory Court Fees Act, directly impacted advocates, state lawmakers, and other key stakeholders held a rally at the State Capitol calling for the passage of this critical legislation. Watch the hearing and get all highlights from the rally in No Price on Justice's latest press release.
Stop Criminalizing Poverty— Rally & Press Conference
On Monday, September 20th at 11AM, criminal justice reform advocates, state and federal lawmakers and people impacted by New York's predatory court fees gathered in Foley Square for a rally and press conference. See highlights and watch the rally here.
Driven by Justice
Driven by Justice is a statewide coalition of grassroots, economic justice, and civil rights organizations, public defenders, and directly affected people working to end the unfair and discriminatory practice of suspending people's driver's licenses for nonpayment of traffic tickets in New York State. On Dec 31st 2020, Driven by Justice celebrated a major victory when Governor Cuomo signed the Driver's License Suspension Reform Act (DLSRA) into law.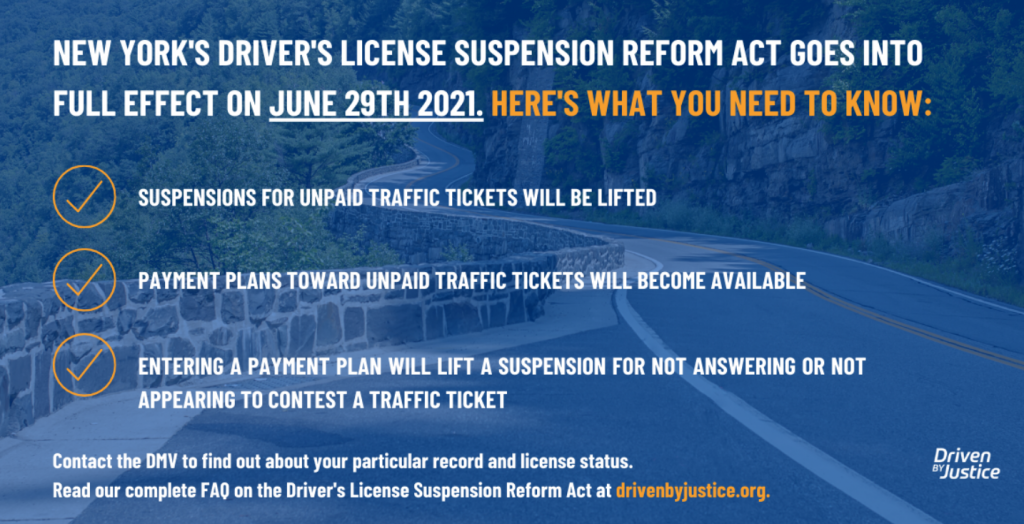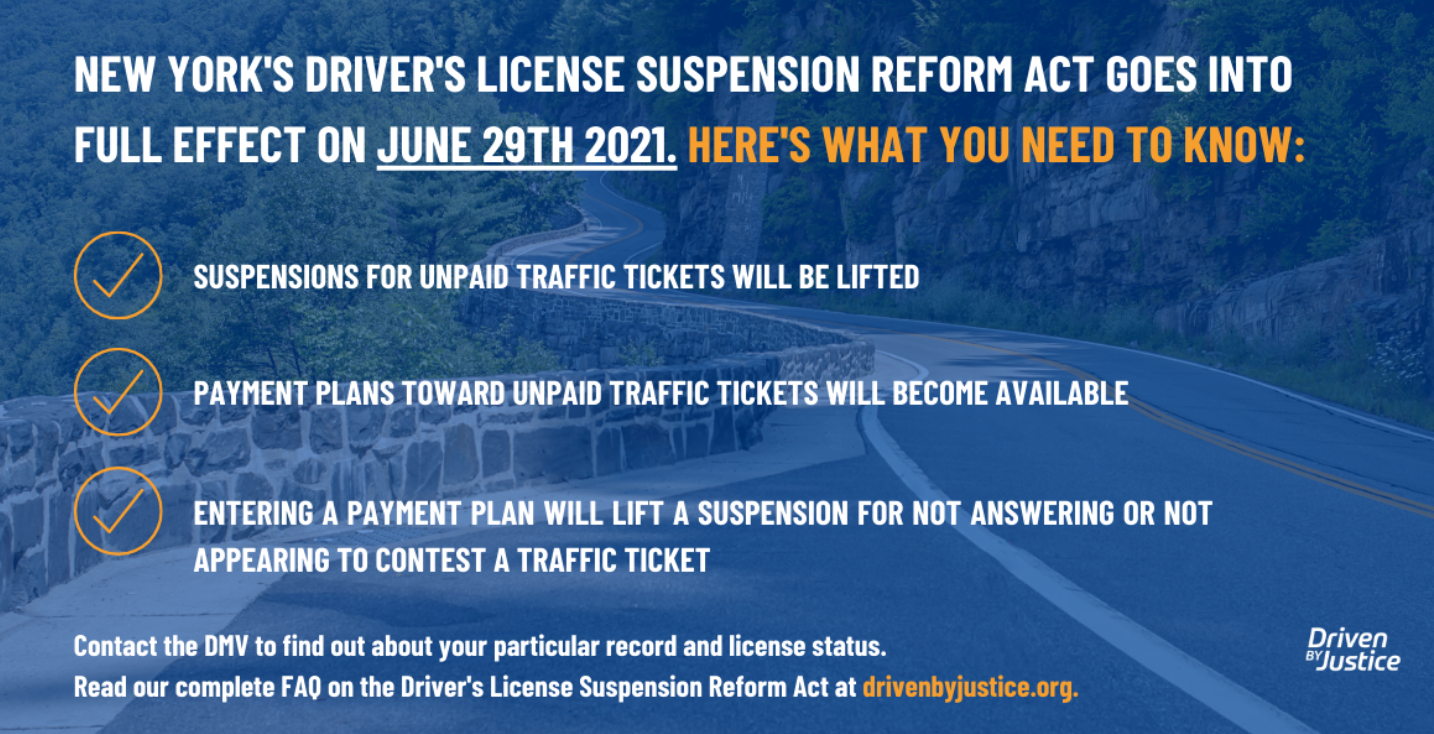 Updates
New York's Driver's License Suspension Reform Act (DLSRA) Goes Into Full Effect — the new law will end license suspensions due to non-payment of traffic fines, while making affordable payment plans available (at 2% of a person's monthly income or $25/month, whichever is greater). The reform would also reinstate the licenses of people who currently have a suspended license due to non-payment of traffic fines. The new law will also help individuals whose licenses are suspended for missing a traffic hearing by providing them with an opportunity to enter into a payment plan and get their licenses restored. Those individuals – often people who did not respond to their traffic ticket because they could not afford their traffic fines – can reinstate their licenses by entering a payment plan without the obstacle of paying reinstatement fees, as they will be folded into the total payment plan amount. Individuals will also now be issued two notifications prior to a license suspension.
Get more details on the law's implementation and see how people can get their license reinstated in Driven by Justice's FAQ fact sheet.
Advocacy Resources
End Predatory Court Fees Act Fact Sheet — Get everything you need to know about New York's proposed legislation to end predatory court fees in No Price on Justice's issue brief and bill summary.
Driver's License Suspension Reform Act Facts & FAQs — The Driver's License Suspension Reform Act is officially in full effect. Find out what you can do if your driver's license was suspended for unpaid traffic fines or for not appearing in court, and how to get on an installment payment plan in Driven's by Justice FAQ sheet.
New York's Ferguson Problem — In 2010, Ferguson generated over 12% of its revenue from fines and fees. By 2015, the city planned to collect over 23% of its revenue through fines and fees. But Ferguson isn't the only city suffering from a reliance on fines and fees. In New York, many localities' reliance on fines and fees is just as bad — and in some cases worse — than when the Ferguson report was released in 2015. Learn more about New York's dangerous reliance on fines and fees revenue in No Price on Justice's latest report New York's Ferguson Problem.
COVID-19 Fines and Fees Reform Tracker and Policy Recommendations— New York's communities, jobs, and government budgets have been decimated by COVID-19. An estimated 2.5 million New Yorkers work in service and sales fields shut down by the crisis and need immediate economic relief. Has your locality changed their fines and fees policies during the COVID-19 recession? How will state and local governments attempt to fill budget gaps in 2021? See how New York's fines and fees policies have changed throughout the pandemic and read FFJC's latest COVID-19 Policy Recommendations on the COVID-19 Reform Tracker.
Join Us