On June 16th 2023, New Mexico officially ended the practice of suspending driver's licenses for "Failure to Appear" (FTA) or "Failure to Pay" (FTP), a policy change which result in hundreds of thousands of New Mexicans regaining the freedom to drive. Signed into law in March 2023, SB 47 ends driver's license suspension for missed court hearings and overdue fines and fees payments owed in traffic and criminal cases. The bill does not eliminate suspensions and revocations based on dangerous driving (DUI, accrued points, etc.) nor does it limit the court's discretion to impose sanctions and punishments in criminal and traffic cases.
New Mexico License Reinstatement Fact Sheet
Was your license suspended due to unpaid fines or fees, or because you were unable to appear in court for a hearing? Check out the fact sheet below to find out how you can ensure your license has been reinstated. Download the fact sheet here. Puede ver la versión en español debajo de este documento.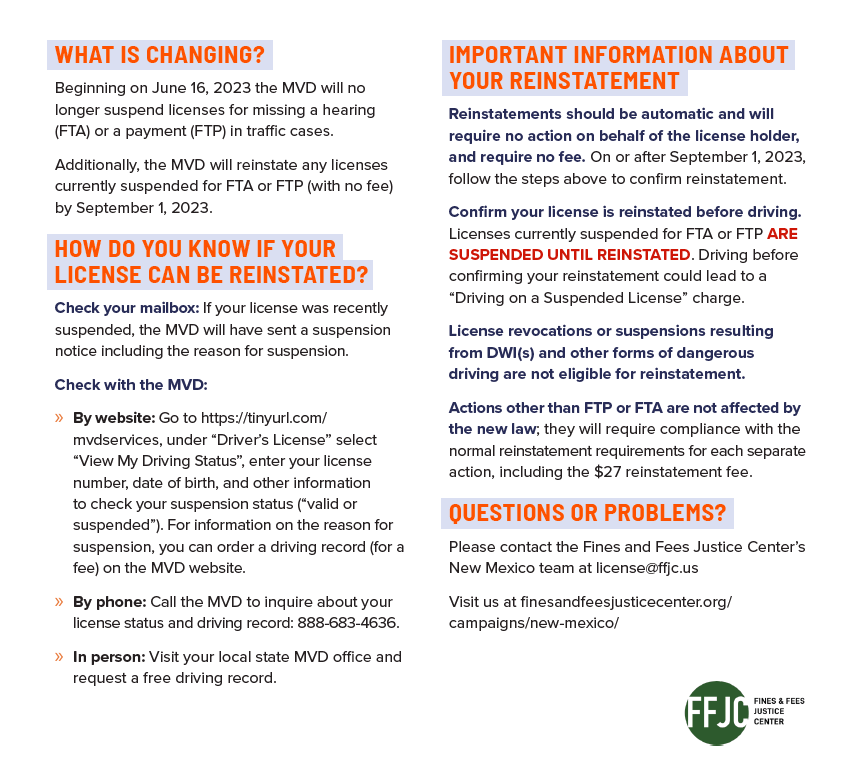 Reinstating Licenses_en_espanol

---
Frequently Asked Questions
Hit a few road bumps along the way to reinstatement? Not sure when your reinstatement officially takes effect? Check out our FAQ sheet below to get answers to the most frequently asked questions. Click here to download the FAQ document. Puede ver la versión en español debajo de este documento.
FAQ-v2

FAQ_en_espanol_2023