This report examines two concerning trends: the increasing use of fines and fees to fund the criminal legal system, and functions of that system being outsourced to private companies who profit from the criminal legal system.
The author examines how efforts to shift the costs of mass incarceration onto "users" (those subjected to the system) impose immense social and financial costs on society, particularly low-income communities of color; and how private profiteers' involvement in the justice system entrenches the "user-funded" scheme. Companies' financial incentives often directly contradict public policy goals, i.e. companies make decisions regarding consumers' criminal punishment while they stand to directly profit from extensions of punishment. Examples of privatized punishment services with perverse incentives include electronic monitoring, diversion programs, and private probation.
You can read the full text of the report here.
Privatizing corrections means that decisions are not focused on the best choice for the offenders or institution, but instead, the best choice for the company—or, in the case of the largest privatized correction companies, what is best for the shareholder. –Laura Appleman, Associate Dean of Willamette University College of Law
Key Findings
The corrections industry operates almost entirely without consumer regulation or enforcement, which is particularly egregious given the power imbalance inherent to corrections services.
Corrections service providers frequently seek out exclusive contracts with corrections agencies that simultaneously allow for aggressive price-raising against a "captive market" and ensure a steady flow of kickbacks for the corrections agencies (extracted from justice-involved people).
Companies frequently take advantage of consumers' lack of knowledge about their rights and fear of criminal consequences.
Recommendations
Advocates should work together to gather information about the harms of criminal legal costs via community meetings and public records requests.
Advocates should demand oversight of companies profiting from the criminal legal system: encourage directly impacted people to file complaints with regulators, and request hearings with public regulators to encourage them to exercise their authority.
Lawyers can apply a consumer protection approach to protect impacted people.
Advocates can push for policy reforms, including prohibiting commission payments and "offender-funded" contracts; eliminating conflicts of interest; and fully funding the criminal justice system from government general revenues.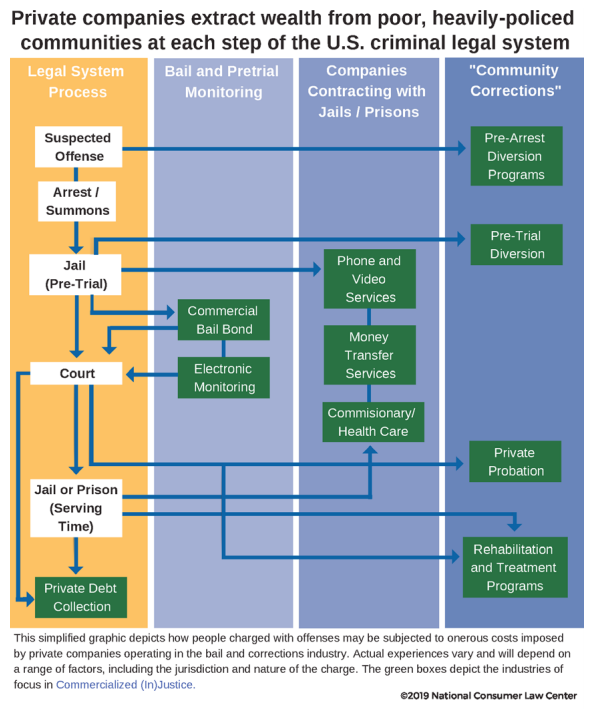 Author(s):
Brian Highsmith, National Consumer Law Center